Special Highlights
Get to Know BCM Institute's Blended Learning Program
OR-400: Operational Resilience Manager
2 Day Coursework or 4 three-hour sessions + 3 1/2 Hour Qualifying ORCE Examination to be taken on the following day
Participants who have completed the pre-requisite, OR-300 Operational Resilience (OR) Implementer course are encouraged to attend this follow-up course.
Here, appointed OR professionals are taught the intricacies of managing and maintaining their OR program from its initial stage of implementation right through its various. This is followed by the implementation of the OR framework.
At the end of the course, managers can look forward to acquiring competencies in:
Module 3: Develop an Operational Resilience Program.  These key components covered are:
Business Continuity Management
Crisis Management
Incident Management
Business Strategy
Digital, Data and Cyber Resilience
Communication and Change Management
Security and Facility Management
Operational Risk Management
Module 4: Implement Operational Resilience Framework.  This includes the following core implementation steps:
Governance
Business Services
Impact Tolerance
Mapping and Resources
Internal and External Communication to stakeholders
Scenario Testing
Lesson Learnt
Self-assessment
The participants will also have to sit for the 3.5 hours Qualifying Operational Resilience Certified Expert (ORCE) online exam after which they will be able to apply for the ORCE certificate provided they have the pre-requisite 3 years of OR or BCM or CM experience.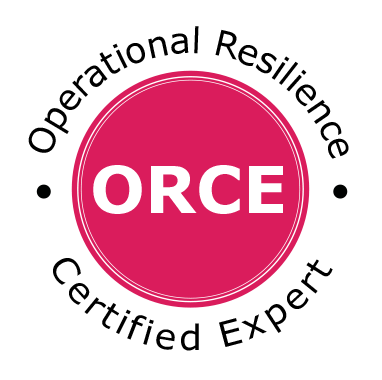 OR Certified Expert (ORCE) Certification is awarded to participants who successfully completed and passed the Qualifying ORCE examination attached to the course, pay a one-time administrative fee and sends in an application detailing at least 3 years of OR or BC or CM experience and satisfies and meets the experience requirements of the independent certification body.
Objectives
Objectives
This course will provide participants with the concept and knowledge, which will enable them to:
Setup governance protocols
Identify business services
Set impact tolerances on important business services
Map resources
Define appropriate scenarios
Conduct scenario test
Institute continuous improvement on lessons learnt
Implement a change management and communication plans
Conduct self-assessment
Develop an operational resilience program via the following key building blocks:

Business continuity management, crisis management and incident management
Digital, data and cyber resilience
Communication and change management
Security and facility management
Business strategy and operational risk management