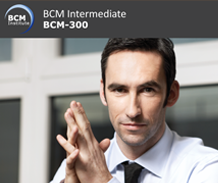 2.5 days (inclusive of half day)
Course Description
BCM-300 is a 2-day intermediate course with an two and half hour 100-Multiple Choice Question (MCQ) based examination, following the successful completion of the course.
Certification

Business Continuity Certified Specialist (BCCS) Certification is awarded to participants who successfully complete their BCCS examination, with verifications of the participant's experience by Certification Committee of BCM institute.
Objectives
Attending the course will provide the participants with the pertinent skills and knowledge, empowering them to:
Assist the business head in determining and implementing the BC project and plan.
Identify possible threats that may disrupt critical business functions in the business units and organization.
Identify and analyze business requirements to recover the business unit's critical function.
Develop effective functional response and recovery plans.
Conduct tests and exercises as part of the organizational requirement.
Strengthen organisational resiliency to counter major incidents and disasters.
Who Should Attend?
This course is designed for Middle Management, Department Representatives, Business Unit BCM Coordinators; BC/DR Managers.
Examination
This course incorporates a 100-Multiple Choice Question electronic exam on the next day. The duration of examination is 2 and 1/2 hour. Candidates who achieve with a passing score of 75% or higher are eligible to apply for the BCM Institute's Business Continuity Certified Specialist (BCCS) accreditation. The examination fee is included as part of the course fee.
Course Fee
Singapore, Thailand, Indonesia, Philippines – SGD2,200
Malaysia – MYR 4,680*
*Malaysians who attend the course in Malaysia are eligible for HRDF funding, do contact your company's HR department to confirm your maximum funding eligibility.
This course fee does not include application processing fee for the BCCS certification.
Certification Fees
SGD75 (Certification Fees are to be paid during application after participants has passed their Qualifying BCCS exam).
Examination Fees
The course fee includes the BCCS examination fee.
Follow-up Courses
BCM-400: ISO22301 BCMS Manager
BCM-5000: ISO22301 BCMS Expert Implementer
BCM Specialised Course
CM-300: Crisis Management Implementer
CC-300: Crisis Communication Implementer
Learning Resources
Min no of Pax
Venue
Singapore
Rendezvous Grand Hotel, Singapore
Malaysia
Swiss Garden Hotel and Residences, Kuala Lumpur
Thailand
To be advised
Indonesia
Hotel Ciputra, Jakarta
Philippines
New World Makati Hotel, Manila
Contact

sales.sg@bcm-institute.org for Singapore classes
sales.my@bcm-institute.org for Malaysia classes
sales.ap@bcm-institute.org for non Singapore and Malaysia classes
Terms and Conditions
BCM Institute will conduct the course only if there are sufficient participants. BCM Institute reserves the right to alter the course content, alter the course location, cancel or reschedule the course at any time without liability. In these circumstances, participants will be offered for deferment to the next run of the same course.