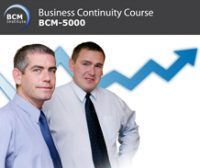 4 Day Coursework with 3 1/2 Hour Qualifying BCCE Examination
Course Description
The BCM-5000 ISO 22301 Business Continuity Management System Expert Implementer course is a 4.5 days holistic BCM training.  Participants would learn the:
Fundamentals of BCM
Practical training of generic BCM templates
Steps to implement a BCM plan
Methods to manage a maturing BCM plan
Ways to maintain a maturing BCM Plan
ISO 22301 Business Continuity requirements would be taught and best practices would be shared.  Practising BCM heads and senior managers are on hand to facilitate the learning process allowing participants to gain insights on industry best practices.
Certification

Business Continuity Certified Expert (BCCE) Certification is awarded to participants who have successfully completed their BCCE examination. A certificate would be awarded to participants with at least 3 years of BC experience. The experience is to be presented in an application form that would be shared upon passing the Qualifying BCCE exam.
Objectives
This course will provide participants with the concept and knowledge, which will enable them to:
Identify possible threats that may disrupt critical business functions in the organisation.
Strengthen organisational resiliency to counter major incidents and disaster.
Identify and analyse business requirements to recover critical business function.
Develop business continuity and recovery strategies.
Develop and implement comprehensive BC plans.
Create and develop BCM awareness and training programme.
Conduct exercises and tests.
Implement BCM audit and assessment programmes to ensure BC plan effectiveness.
Drive organisation-wide BCM program.
Ensure effective program management on an ongoing basis.
Who Should Attend?
Examination
Format:  150-Multiple Choice Question invigilated online exam.
Duration:  3 and 1/2 hour.
Passing Score:  75%
Course Fee
This course fee does not include application processing fee for the BCCE certification which cost SGD150.
Funding
*HRDF Claimable for Malaysian citizen taking the course, to check how much you are able to claim, please refer to your respective HR Department.
Certification Application Processing Fees
Examination Fees
The Qualifying BCCE examinations are included in the course fees.
The examination fees are not a separate component of the course.
The examination fees include 1 re-examination
Follow-up Courses
Learning Resources
Min no of Pax
Venue
Singapore
Malaysia
Berjaya Times Square, Kuala Lumpur
For all other locations please contact sales.ap@bcm-institute.org
Terms and Conditions
The class would not commence if there are less than 10 participants.
BCM Institute reserves the right to alter the course content, alter the course location, cancel or reschedule the course at any time without liability. Affected participants will be able to defer their course.