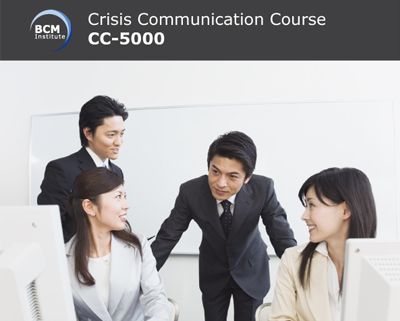 Course Description
CC-5000 Blended Learning is a 4-day advanced level Crisis Communication (CC) course with four (4) modules across a period of 6 to 8 weeks.
Module 1 – BCM E-Learning Course
Note: Participant is expected to complete Module 1 within 4 weeks after registering before pursuing Module 2
Module 2 – Facilitated Online Workshop
Module 2 aims to provide an overview of the contents of a crisis communication plan, and how students can go about documenting the plan based on the crisis strategies developed earlier.
This (one hour per each session) webinar includes the hands-on practice to complete an actual Crisis Risk Assessment, CC Strategy and CC Plan templates using their organisation's examples. you are required to complete validated project work for the final assessment.
Note: Participants are required to submit their assignment and will be assessed at the end of each session.
Module 3 & 4 – Facilitated Online Workshop
Module 3 discusses in detail the key roles and responsibilities of the Crisis Communication Team (CCT) and the teams supporting the corporate Crisis Management Team (CMT).
Similar to Module 2, pre-readings would be shared before participants join the facilitated online workshop on different days.
It would then be followed up by Module 4 which reviews the overall CM framework and clearly defines the structure, event flow and roles and responsibilities.
Participants would be provided pre-readings before they present in the facilitated online workshop.
Certification

CCCP certification is awarded to all who completes Module 1 of the CC-5000 Blended Learning.

Crisis Communication Certified Expert (CCCE) Certification is awarded to participants who successfully completed their CMCE examination, with verifications of the participant's experience by BCM Institute.
Objectives
This course will provide participants with the concept and knowledge, which will enable them to:
Drive organisational-wide crisis communication program.
Develop crisis communication policies and procedures.
Develop and implement comprehensive crisis communication plan.
Learn to track and trace incident events and prioritize decisions and activities.
Create and develop crisis communication awareness and training programmes.
Develop and implement press release and holding statements.
Adopt a crisis communication to manage social media during crisis.
Learn how to develop an organization-wide crisis communication exercising and testing program.
Implement audit and assessment program to ensure crisis communication plan effectiveness.