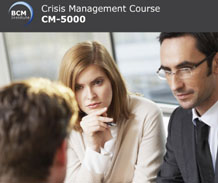 Course Description
CM-5000 Blended Learning is an advanced level Crisis Management (CM) course with four (4) modules to be completed across a period of  8 weeks.
Module 1 – CM E-Learning Course
Note: Participant is expected to complete Module 1 within 2 weeks after registering before pursuing Module 2
Module 2 – Facilitated Online Workshop
Module 2 aims to provide the participants with the knowledge to identify and categorise different types of crises through crisis risk assessment (CRA) techniques.
This (three hours per session) webinar includes the hands-on practice to complete an actual CRA, CM Strategy and CM Plan templates using their organisation's examples. you are required to complete validated project work for the final assessment.
Note: Participants are required to submit their assignment and will be assessed at the end of each session.
Module 3 & 4 – Facilitated Online Workshop
Similar to Module 2, pre-readings would be shared before participants join the Facilitated Online Workshop on different days.
Participants are required to complete validated project work for the final assessment to be submitted upon completion of Module 4.
Participants will be introduced to the concept of crisis leadership and its importance to the success or failure in managing a crisis.  This course is conducted in four sessions of 3-hours (two sessions each module) facilitated online workshop.
Certification



CMCP certification is awarded to all who completes the CM-5000 Blended Learning.
Crisis Management Certified Expert (CMCE) Certification is awarded to participants who successfully completed their CMCE examination and have at least 3 years of relevant crisis management experience. A non-refundable application processing fees of SGD150 is needed to start the CMCE application process.
Objectives
This course aims to enable participants with the ability  to:
Identify possible threats that may disrupt the organisation.
Strengthen the organisational resiliency to counter major incidents and disaster.
Develop crisis management strategies.
Develop and implement comprehensive CM plans.
Create and develop CM awareness and training programme.
Conduct exercises and tests.
Implement CM audit and assessment programmes to ensure CM plan effectiveness.
Drive organisation-wide CM program.
Ensure effective program management on an ongoing basis.