CM-5000: Crisis Management Expert Implementer
4 Day Coursework + 3 1/2 Hour Qualifying CMCE Examination to be taken on the following day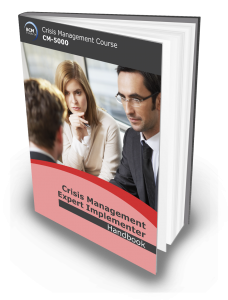 This is the only BCM Institute Crisis Management (CM) course that is funded by IMDA's CITREP+ programme.
Course Fees are funded up to 70% capped at SGD3,000.
Singaporean and Singapore PR can enjoy CITREP+ Funding via the Crisis Management Certified Planner (CMCP) certification programme listed in IMDA's Training and Courses website.
Malaysians taking the class in Malaysia can enjoy the Human Resource Development Fund (HRDF) available. Please check with your respective organisation on the funding available for you.
The CM-5000 Crisis Management Expert Implementer course will  introduce the essential steps of developing CM strategies. It will also teach on designing and implementation of CM plans. Participants will also be taught on preparing and conducting awareness and training programmes. The course is best suited for business continuity professionals as well as new crisis management personnel.

CM Certified Expert (CMCE) Certification is awarded to participants who passed the Qualifying CMCE examination. Participants would need to proof that they have at least 3 years of crisis management (CM) experience in an application form. This needs to be sent along with a non refundable SGD150 application processing fees. The application form would be shared upon passing the exams.