ISO 22301 Business Continuity Management System (BCMS) Audit Certification Courses
BCM Institute's  ISO 22301 business continuity management system (BCMS)  audit certification courses are internationally recognised.
It will take participants through, not just on the requirements of standard but it also allows them to understand the fundamentals of BCM that makes up the core of the standard. Participants will also be exposed to the thought processes of an ISO 22301 auditor.
If you are an IT and financial auditor wanting to specialise in auditing your organisation's business continuity management program, this course will allow you to understand and be trained to perform a comprehensive audit.
Courses are available in 3 and 4 days and are divided into 3 levels of competencies:
KNOW

DO

MANAGE
The difference between the 3-day ISO 22301 BCMS Auditor course and the  4-day ISO 22301 BCMS  Lead Auditor course is the ability to understand an external, third-party certification auditor's thought process during the extra day in class.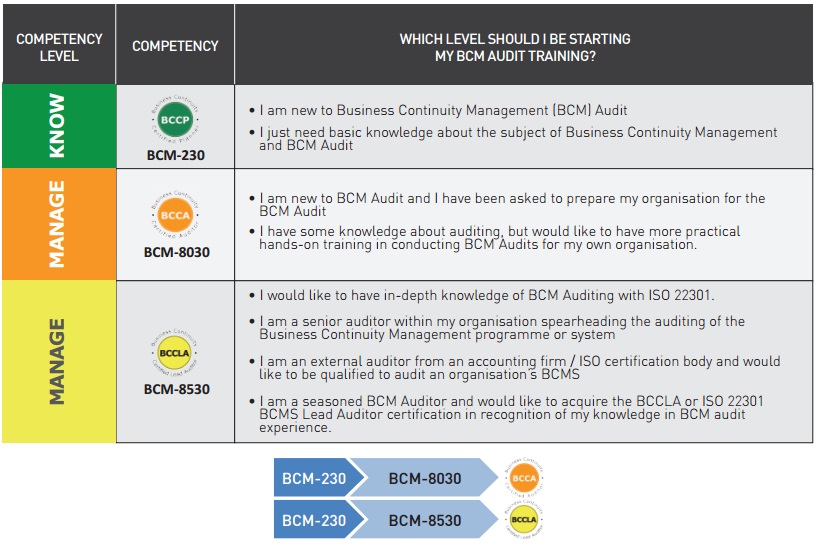 BCM professionals who would like to gain an understanding and upgrade their competency of BCM's unversal standard, the ISO 22301 and at the same time be internationally certified can look forward to enrolling in any of 2 of our certification courses.
Check Out Our Upcoming Courses