OR-5000: Operational Resilience Expert Implementer
Special Highlights
Get to Know BCM Institute's Latest Program
OR-5000: Operational Resilience Expert Implementer
Four (4) 3 hour sessions + Assignment | Two (2) Days Onsite Classroom | Examination
Embark on a journey towards operational excellence with our comprehensive Operational Resilience (OR) implementation program. Our team of experts will assess your organization's capability and maturity, conduct a thorough gap analysis, and develop a tailored strategy and roadmap to guide you towards success.
With a confirmed risk appetite, we'll develop and embed robust governance to manage and sustain the OR program. Our approach includes cultural change management to ensure that OR becomes integral to your organization's DNA.
Our communication strategy is designed to keep all stakeholders informed and engaged. We provide a comprehensive training and awareness program to empower your team with the knowledge and skills they need to succeed. Our training program includes interactive workshops, hands-on exercises, and real-life case studies to ensure your team can effectively manage operational resilience.
Our self-assessment tools and independent quality reviews ensure your OR program remains on track. Take the first step towards operational excellence. Contact us today to learn more about our OR implementation program.
There is no pre-requisite to attend the course. Participants from all backgrounds and experience levels are welcome.
Participants should have acquired the skills and understanding of Operational Resilience by completing the course. A 3 1/2 hour, 100 online MCQ exam would be administered at the end of the course to test their understanding of the concepts taught.
This course is also available as a Hybrid Learning approach where the final two modules (modules 3 and 4) are conducted as an onsite class at a dedicated location.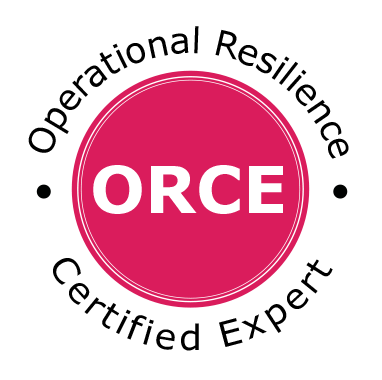 The Operational Resilience Certified Expert (ORCE) Certification will be awarded to participants who successfully complete and pass the Qualifying ORCE examination attached to the course, sends in an application detailing at least three years of OR or BC or CM experience, make the application processing fee payment of SGD 150 and satisfies and meets the experience requirements of the independent certification body.
If you prefer a fully online course, click the schedule below.
Objectives
Objectives
This course will provide participants with the concept and knowledge which will enable them to:
Plan and develop the initiation of the OR implementation
Assess capability and maturity
Conduct and analyse the gap
Develop strategy and roadmap
Confirm Risk Appetite
Develop and embed governance
Manage and sustain the OR program
Introduce cultural change management
Develop a communication strategy for all stakeholders
Implement training and awareness
Provide self-assessment
Conduct independent quality review