OR-400: Operational Resilience Manager
4 three-hour sessions + Assessment | 3 and 1/2 hour Examination
OR-400 Operational Resilience Manager Blended Learning Course (BL-OR-4)
This OR-400 operational resilience (OR) manager blended learning course is an advanced OR course primarily designed for professionals to understand the intricacies of developing and setting up their OR program. This is followed by the implementation of the OR framework starting from its initial stage of implementation right through its various key stages till the lessons learnt from the scenario testing and also to conduct a self-assessment conducted for management governance actions
To attempt the course, one has to complete the OR-300 Operational Resilience Implementer course.
The course is divided into 2 Modules (or 4 three-hour sessions) which are expected to be completed within 4 weeks.  Participants are expected to do pre-readings and preparatory work before attending each session.
MODULES
Module 1 & 2 of OR-400 (or Module 3 & 4 of OR-5000 Blended Learning)
– Facilitated Online Workshop
Module 1 of OR-400 (or Module 3 OR-5000) discusses advanced issues in developing and managing an operational resilience program for an organization. Considerations in planning and execution are discussed, such as the development of an operational resilience framework that enables it to sustain the program and satisfy the regulatory requirements.
Pre-readings and guidance notes would be shared before participants join a 4 three-hour facilitated (100%) online workshop conducted over a period of four different days.
Completing Module 1 would then be followed up by Module 2 (Module 4 OR-5000) where participants will be taught about implementing the building blocks of the operational resilience program.
During the last three modules, the OR concepts and program are developed.  To put the final set of the "Manage" competency is learning how to implement an operational resilience framework within your organization using the diverse set of building blocks learnt during module 1 of the OR-400 course.
Participants would be provided pre-readings and guidance notes before they present in session 2 of each of the two (2) 3-hour facilitated online workshops.
Yes, I am interested. I want to know more about what this course has to offer!
| | |
| --- | --- |
| Price | Singapore Dollar SGD 2,400 |
| Estimated Duration | Lapse period of 2 weeks |
| Certificate | One e-Copy of the Operational Resilience Certified Expert (ORCE) Certificate when there is proof of 3 years of OR-BC-CM experience and SGD 150 ORCE application fee |
Please choose your preferred batch wisely to ensure your availability for the dedicated web-training session.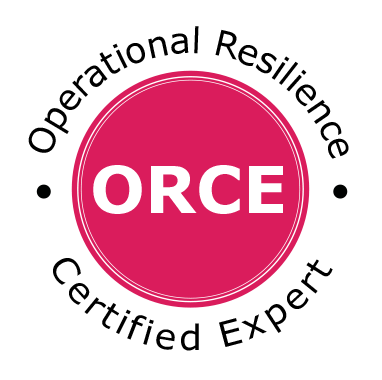 OR Certified Expert (ORCE) Certification is awarded to participants who successfully completed and passed the Qualifying ORCE examination attached to the course, pay a one-time administrative fee and sends in an application detailing at least 3 years of OR or BC or experience and satisfy and meets the experience requirements of the independent certification body.
Objectives
Objectives
Attending the course will provide the participants with the pertinent skills and knowledge, empowering them to:
Assist the business head in determining and implementing the BC project and plan.
Identify possible threats that may disrupt critical business functions in the business units and organization.
Identify and analyze business requirements to recover the business unit's critical function.
Develop effective functional response and recovery plans.
Conduct tests and exercises as part of the organizational requirement.
Strengthen organisational resiliency to counter major incidents and disasters.