Operational Resilience Certified Planner (ORCP)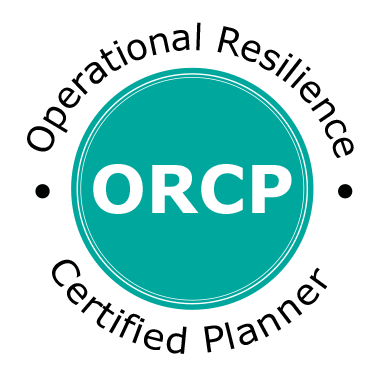 BCM Institute's Operational Resilience Certified Planner (ORCP) is an internationally recognised entry-level operational resilience (OR) certification. It is designed to recognize OR professionals' understanding of the fundamental concepts of OR.
These OR professionals may be senior and middle management, or business executives, who may be tasked to develop OR, emergency response, recovery and resumption processes, procedures and plans for the organisation.
The pre-requisites are:
Attend and complete the OR-200: Operational Resilience Planner course and
Pass the Qualifying ORCP examination
How to be Certified
How to be Certified
Formal Education
eLearning
Attend the eLearning BCM Fundamentals course (Duration 30 days), a candidate must:
Sign up for the course
Pay the Course Fees
Be assigned login credentials to start the eLearning
Answer quizzes at the end of each sub-module
Be awarded BCCP certification
Examination
Passing Grade: 75%
Exam Format:  50-Multiple Choice Questions (MCQ) invigilated online examination.
Re-Examination: Your course price includes 1 complimentary re-examination attempt. The subsequent attempt is payable at SGD150.
Certification
Requirement: Pass the Qualifying BCCP Examination
Experience: No experience is needed for the award of the certification.