Operational Resilience Certified Expert (ORCE)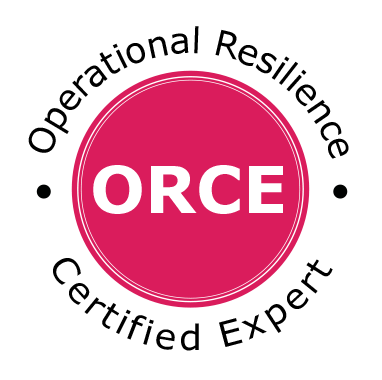 The Operational Resilience Certified Expert (ORCE) certification is designed and developed to instil pertinent concepts and knowledge in OR practitioners which will enable them to drive organizational-wide OR programs, develop operational resilience strategies, develop and implement comprehensive OR plans and OR awareness and training programs, conduct exercises and tests and implement audit and assessment programs to ensure plan effectiveness.  This certification is most suited for Organisation BCM Coordinator, BCM managers, planners and project managers and BU BCM Coordinator.
The pre-requisites are:
To apply for your ORCE credential, you should have at least three years of Operational Resilience (OR) professional experience and can describe your implementation and role in at least 5 of the BCM Body of Knowledge (BoK).
How to be Certified
How to be Certified
To become a ORCE certified professional, a candidate must successfully complete four separate processes:
Formal Education
To attend the OR-400: Operational Resilience Manager course (duration 2.5 days including half-day examination) or OR-5000: Operational Resilience Expert Implementer course (duration 4.5 days including half-day examination), a candidate must:
Sign up for the course
Pay the Course Fee
Be assigned with login credentials for the online final examination
Sit for the examination at the end of the course
Examination
To sit for the Examination, a candidate must:
Certification
To be issued a certificate, a candidate must:
Pass the ORCE qualifying examination with a required passing score of 75% out of 100- Multiple Choice Questions (MCQ)
Submit the Application Processing Fee
Submit the Certification Application Form to the certification team
Describe 5 or more domains of the BCM Body of Knowledge (BoK)
Select two references for each BoK* (these references may be repeated for all five domains)