Operational Resilience Certified Specialist (ORCS)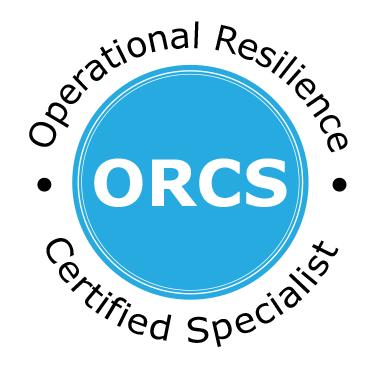 The Operational Resilience Certified Specialist (ORCS)
certification is designed and developed for management, department representatives, business unit coordinators designated with OR responsibilities, Operational Resilience managers and planners. Candidates will be imparted essential skills and knowledge of identifying critical or important business services, setting up impact tolerance, performing and end-to-end mapping of processes and resources, conducting scenario testing and exercising, implementing continuous improvement and keeping OR plans current. Candidates will also be introduced to the key operational resilience strategy development and roadmap stage.
The pre-requisites are:
Attend and complete the OR-300: Operational Resilience Implementer course and Pass the Qualifying ORCS examination
AND
Have at least one year of Operational Resilience/ business continuity/ crisis management/ IT disaster recovery professional experience and
Be able to describe at least 3 BCM related Body of Knowledge (BoK)
Send in the SGD 75 ORCS Certification Application Processing Fees
How to be Certified
How to be Certified
To become a ORCS certified professional, a candidate must successfully complete four separate processes:
Formal Education (attend and complete the OR-300: Operational Resilience Implementer course)
Examination (attempt and pass the Qualifying ORCS examination)
Show proof of at least 1 year of verifiable OR experience
Make payment of SGD75 (non refundable) application processing fee.
Formal Education
To attend the OR-300: Operational Resilience Implementer (duration 2.5 days including half-day examination), a candidate must:
Sign up for the course date and location
Submit the Course Fees
Be assigned login credentials for the online final examination
Sit for the examination at the end of the course
Examination
To sit for the Examination, a candidate must:
Certification
To be issued a certificate, a candidate must:
Pass the ORCS qualifying examination with a required passing score of 75% out of 100- Multiple Choice Questions (MCQ)
Submit a non-refundable Application Processing Fee
Submit the Certification Application Form to certification team
Describe 3 or more domains of the BCM Body of Knowledge (BoK)
Select two references for each BoK* (references may be repeated for all 3 domains