Four (4) 3-hour sessions + Assessment + Exam
Operational Resilience Implementer Course (BL-OR-3)
This intermediate operational resilience (OR) course is primarily designed for professionals to understand OR fundamentals, principles and framework with a contextual overview to implement OR in different operating environments.
The 100% online facilitated course is divided into 2 Modules (or 4 three-hour sessions) which are expected to be completed within 4 weeks.  Be expected to have pre-reading and preparatory work prior to each session.  You are also expected to be facilitated by experts from multiple countries.
MODULES
Module 1 – Overview of OR Fundamentals
Module 1 of 2 is a facilitated online workshop designed to ground all participants in the fundamentals of Operational Resilience (OR).  It starts with learning the components of good practice OR principles and framework.  is ideal for a newly appointed OR practitioner who would like to know the end-to-end process of how to start an OR program for their organization as well as maintain it once it has been implemented.  This is a workshop-facilitated online module.
Module 2 – Operationalizing OR
Participants attending the Module 2 facilitated online workshop will be given the opportunity to understand and have an in-depth knowledge of the structure of an OR framework.  The major steps are to recognize and analyze types of operational disruptions, identify important and critical business services, and impact tolerance.  Lastly, it is to identify scenarios for testing and design the types of scenario testing with fellow participants from various industries.
These online workshops would be facilitated by senior industry practitioners that include current senior enterprise and operational risk, BCM professionals, consultants and vice presidents from international financial institutions located in several countries.
Yes, I am interested. I want to know more about what this course has to offer!
| | |
| --- | --- |
| Price | Singapore Dollar SGD 2,400 (ORCS certification application fee is not included, to pay additional SGD 75 upon submission) |
| Estimated Duration | Lapse period of 4 weeks |
| Certificate | One copy of the Operational Resilience Certified Specialist (ORCS) Certificate |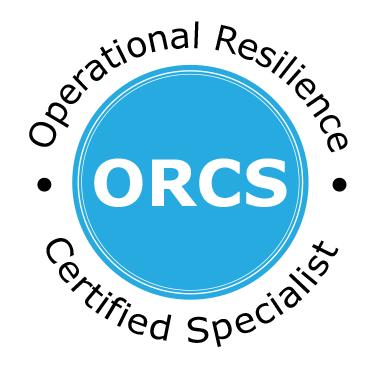 OR Certified Specialist (ORCS) Certification is awarded to participants who successfully completed all Blended Learning sessions, passed the ORCS examination, sends in an application detailing at least 1 year of related OR or BC or CM experience working on OR in their organizations, and satisfy and meet the experience requirements of the independent certification body.
Objectives
Objectives
Attending the course will provide the participants with the pertinent skills and knowledge, empowering them to:
Build an Operational Resilience Programme
Recognize and analyze types of operational disruptions
Identify important business services
Set appropriate impact tolerances for important business services
Map operational resilience across the organization
Perform scenario testing
Communicate operational resilience plans effectively