BCM-8530: ISO 22301 Business Continuity Management System Lead Auditor
4 Day Coursework + 3 1/2 Hour Qualifying BCCLA Examination to be taken on the following day
This is an advanced level ISO 22301 Business Continuity Management Systems (BCMS) Audit course with a 150-Multiple Choice Question (MCQ) based examination, following the successful completion of the course. This workshop is primarily designed for senior BCM professionals with audit responsibilities, system auditors and /or lead auditors to conduct audit/ assessments based on the ISO22301 Business Continuity Management System. As a qualified BCM Auditor or Lead Auditor, he or she is to decide on behalf of the clients on the compliance and effectiveness of the audited organisation's business continuity management system in meeting ISO22301 requirements. Participants who successfully attended the workshop and successfully completed the certification examination (with a 75% passing score) on the morning of the 5th day will be able to apply for certification as Business Continuity Certified Lead Auditor (BCCLA).


BC Certified Lead Auditor (BCCLA) Certification is awarded to participants who successfully completed and passed the Qualifying BCCLA examination attached to the course, sends in an application detailing at least 1 year of BC experience , make the application processing fee payment of SGD150 and satisfies and meets the experience requirements of the independent certification body.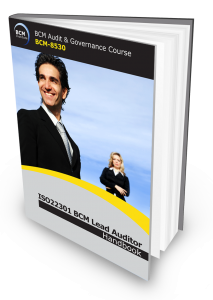 Objectives
Objectives
This course will provide participants with the concept and knowledge, which will enable them to:
Who Should Attend?
Who Should Attend?
Audit Directors and Senior Audit Managers with responsibilities for BCM audit Professionals responsible for auditing a business continuity management system.
Practitioners who will be required to perform BCM audits.
Management Systems auditors who are keen in auditing BCMS
BCM and DR professionals assigned with review and auditing responsibilities.
Auditors or Management Representatives from any organization embarking on their BCMS process may also consider this course as it is the most comprehensive course to guide any practitioners who would like to be competent in understanding the process of auditing with ISO22301 BCM Standard.
Participants planning to perform self-assessment.
Consultants planning to provide independent audits
Existing auditors who will be performing BCM audits.
Course & Examination Fee
Examination
This course incorporates a 150-Multiple Choice Question electronic exam the next day. The duration of the examination is 3 and 1/2 hour. Candidates who achieve with a passing score of 75% or higher are eligible to apply for the BCM Institute's Business Continuity Certified Lead Auditor (BCCLA) accreditation. The examination fee is included as part of the course fee.
Course Fee
This course fee does not include application processing fee for the BCCLA certification.
Attendees who are not citizens of the host country will pay the full fee for the courses.
Certification Fees
SGD150 Certification Fees are to be paid during application after participants have passed their Qualifying BCCLA exam.
Examination Fee
The course fee includes the BCCLA examination fee.
Other Information
Follow-up Courses
 BCM Courses, BCM Technical Courses and BCM Specialised Courses
Learning Resources
Min no of Pax
10
Venue
Singapore
Rendezvous Grand Hotel
Malaysia
Swiss Garden Hotel & Residence
Funding
Singapore
Participants from SME companies are able to claim PIC Training. To know more about the scheme, do click here
Malaysia
HRDF for Malaysians and Malaysian PR
Terms and Conditions
BCM Institute will conduct the course only if there are sufficient participants. BCM Institute reserves the right to alter the course content, alter the course location, cancel or reschedule course at any time without liability. In these circumstances, participants will be offered for deferment to the next run of the same course.