OR-200: OPERATIONAL RESILIENCE PLANNER
1 Day coursework and 1 and 1/2 hour 50-questions MCQ examination
BCM Institute's introductory 1-day foundation course on Operational Resilience (OR) fundamentals. It is ideal for a new OR practitioner who would like to know the end-to-end process of how to start an Operational Resilience program for their organization.
Operational Resilience (OR) is the ability of a firm, and the financial services sector as a whole, to identify and prepare for, respond and adapt to, recover and learn from an operational disruption.
It will take them through modules on:
Overview of Operational Resilience
Update on Regulatory Positions
Operational Resilience Planning Methodology: Framework, Principles and Cycle
Types of operational disruptions
Important-critical business services
Impact tolerances
Mapping operational resilience inter-dependencies across the organization
Types of scenario testing
Participants would be awarded an Operational Resilience (OR) Certified Planner (ORCP) Certificate upon completing the Module 1 course and passing the ORCP exam.
There is NO pre-requisite to the course.
To know more about the package, feel free to contact sales.ap@bcm-institute.org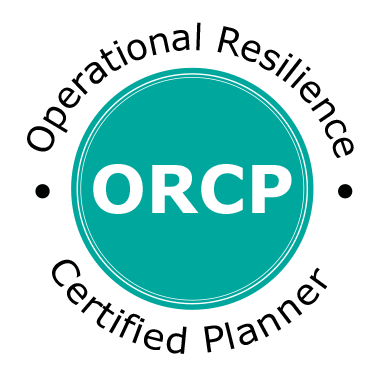 The Operational Resilience Certified Planner (ORCP) Certification is awarded to participants who successfully complete and pass the Qualifying ORCP examination attached to the course.
This certificate is renewable annually at SGD50.
Objectives
Objectives
The course would cover the following topics and the participants should be able to:
Understand the function and purpose of Operational Resilience (OR) standard.
Translate the requirements of OR and its applicability to your organization's business functions.
Articulate key BCM concepts and terms to your management, business partners, suppliers and/or colleagues.
Walkthrough each phase of the BCM planning methodology.
Understand the implementation of the Operational Resilience (OR).